Get the safe phone that grows with your kids. Use code FREEA14 at checkout.
Offer available while supplies last. Valid for new lines only. Please review our promo policy for more details.
BLACK FRIDAY SALE // FREE PHONE
Samsung Galaxy A14 5G
Troomi KidSmart™ OS
What makes Troomi different?
Featuring KidSmart OS™, "different" really isn't the right word—think "revolutionary."
No pornography, predators, and bullies
No social media or harmful games
Graduate kids into more functionality based on needs and maturity
Option for safe web browser
Access to safe apps for school and creativity
Schedule access based on time of day
Safe environment to prepare kids for the future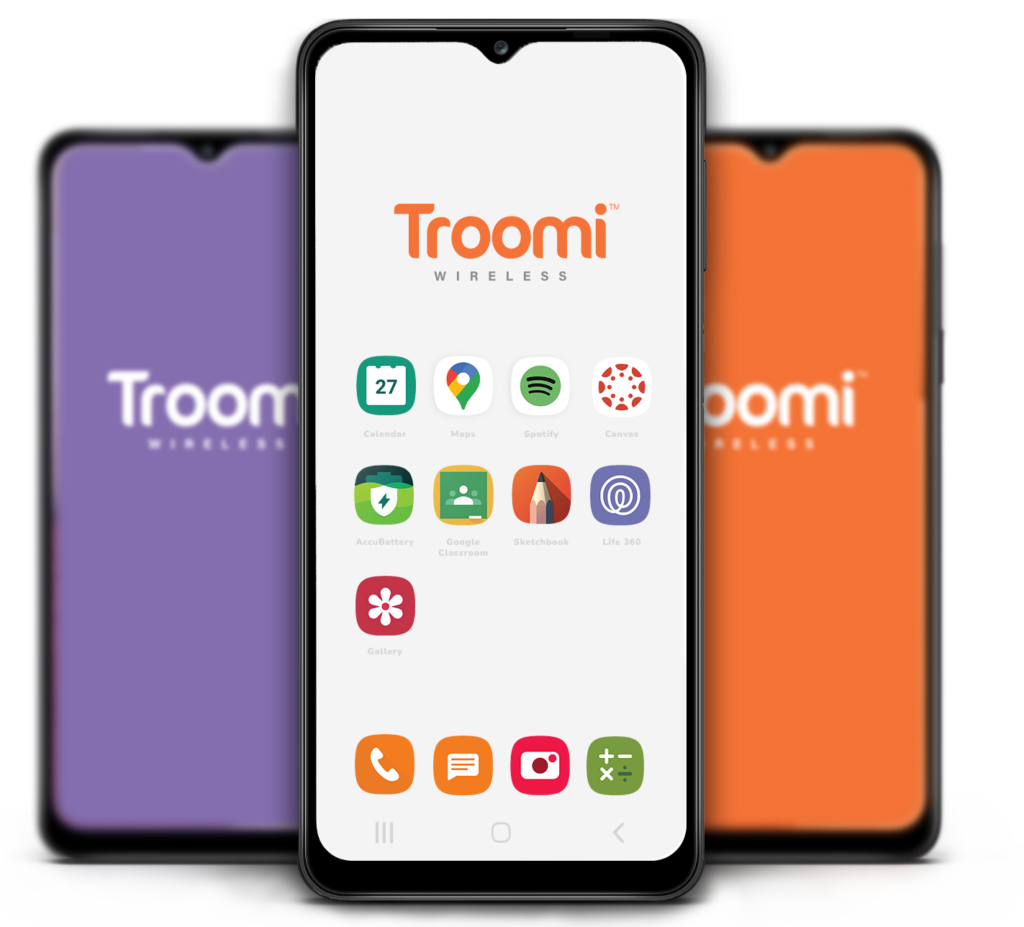 Wearable safe phone for kids.
Kid-safe phone from a brand you know.
A quality device from Samsung means more peace of mind—way more.
We're proud to launch Troomi with devices from Samsung that kids will love and parents can trust:
Well-known brand that kids are excited to use
Longer device life so it can grow with your child
Fewer hardware problems mean fewer worries
Quad Camera for incredible photos, including a 16MP main camera and 8MP front camera for stunning selfies
6.5″ display and slim, adult-looking design
2-day battery life for increased safety
Octa-core processor with 128GB of storage
Defense-grade security to safeguard privacy
Bluetooth for connecting speakers and headphones
No foreign government security concerns
We believe in the limitless potential of children to learn, do and become anything.
Why parents prefer Troomi:
I love Troomi! All you want in a phone for your kids without all the stuff you don't want.
We are so excited to finally have a Troomi phone. Setup was so easy, it was almost too good to be true.
Troomi is simple, easy, and takes the guess work (and work) out of managing and navigating my kids' first phones.
After going through three different cell phones trying to find one that had everything we needed for our kids, we found Troomi!
We absolutely love our Troomi phone! I love how easy it is to customize and change the settings. The Parent Portal is so straightforward and user friendly.
When my 13-year-old daughter needed a phone, we decided to try Troomi, and I'm glad we did! Troomi is the best option if you are looking for a safe phone for your child.
We are loving this phone and parental controls. My 13-year-old boy now has a phone that can grow with him.
Troomi is everything I was looking for in a phone for my daughter. It is so much better quality than the other kid phone she had before. If you are looking for a phone for your kids, Troomi is it!
Troomi has been the best phone for our kids!
We have LOVED our Troomi phone! The parent controls are very easy and intuitive and my daughter loves that she can have more freedom as we work together on learning safe phone practices.
Troomi is awesome! I love being able to allow more functionality as my daughter grows older without having to worry about all the terrible things other regular phones allow.
Signed up my 11 and 13-year-old kids, and it has been a great experience. I love that I can ease them into full-fledged phone use. It is a great tool to help them become smart phone users.
We bought our 14-year-old daughter a Troomi phone for her birthday. She loves it! I love that we have a high-quality phone that is safe and will grow with her as she is ready.
We have passed on every other cell phone option for our son. None truly meets our needs. Then we found Troomi, which literally checked off EVERYTHING we were looking for!
What network does Troomi use?
Troomi is built on one of America's leading 4G/5G networks. For just $19.95 a month, we provide all users with:
Unlimited talk and text in the USA
Unlimited talk and text to Canada
Unlimited talk and text to Mexico
Texting to 190 countries to keep in touch with loved ones
Plus 1 GB of data to run essential apps!
Is Troomi available in your area?
Enter your zip code below to find out if Troomi is available in your area!
Frequently Asked Questions
How is Troomi different than other safe solutions?
Troomi is the safe phone that grows with your child. We provide safety today and prepare kids for the future. Other solutions are so locked down that they quickly become impractical as children's needs evolve.
Troomi also prevents problems before they happen! With Troomi, prevent problems by keeping kids away from pornography, predators and the dangers of social media to begin with.
Simplify your child's safe phone with one service that does everything you need. Pay for your safe phone and phone service in one place, with no extra subscriptions required.
Does Troomi really prevent unwanted calls?
Unlike competing solutions, every Troomi phone comes with the ability to eliminate calls from spammers, creeps and predators.
We do this with our unique SafeListing™ technology that enables parents to designate the numbers that can call and text into the device.
What is the Parent Portal?
Think of the Parent Portal as the command center for your child's device. It is a Web app you can easily access from any device on any platform.
The Parent Portal enables you to graduate your kids from one level of functionality to the next as they mature and their needs evolve. Learn more HERE.
Available on the Discover plan, KidSmart™ Apps have been carefully curated and vetted for safety by our team. They are intended to help kids excel in school, enjoy healthy hobbies, and develop their talents.
There is no app store on the phone, so KidSmart Apps are selected and managed from within the Parent Portal—including the ability to manage when individual apps are available to the child and when they are not.
You can learn more about all our apps HERE, including standard apps that are available on every plan.
Why do you use Samsung devices?
Competing solutions intended for kids use off-brand devices that break easily and may cause more headaches than they're worth. In our case, Samsung is a leading brand that kids are excited to use.
Higher quality means the device will last longer and grow with your child. As well, better quality means fewer hardware problems and fewer worries. 
All that said, our devices are still priced appropriately for kids. Check them out HERE.
How is the picture quality of your phones?
We know that picture quality is really important to most kids, so our Samsung devices offer quad cameras for taking incredible photos.
See more details on our devices HERE.
What options are available for music?
Apple Music, Amazon Music, Spotify, Spotify Kids and iHeart Radio Kids are all available through the Discover plan and allow streaming over WiFi.
Apple Music and Spotify both allow users to easily download songs to their devices to make them available anytime, anywhere.
For parents who prefer not to enable a streaming music service, every plan comes with a basic music player app that can play MP3s downloaded onto the phone.
And our devices are fully Bluetooth enabled for connecting to wireless headphones and speakers.
How does data work on Troomi plans?
Each of our phone plans include 1 GB of data per month. Since the majority of our KidSmart® Apps only operate on wifi, 1 GB of data should be plenty of power for even the most tech-saavy kids and teens! 
Does Troomi service require a contract?
No monthly contracts! We don't lock you in because we know you'll want to stay.
Does Troomi service come with a guarantee?
Have confidence with our 30-day, money-back guarantee! Return your device within 30 days of purchase for a refund minus shipping and any applicable repair fees.
What if my child already has a phone number?
We make porting a number into Troomi as painless as possible. We'll welcome you—and your phone number—with open arms.
During the checkout process, you'll see an option to port your existing phone number. All you need to do is input your phone number and PIN from your current carrier when prompted—we'll do the rest!
Will my kids be able to call their family in Mexico and Canada?
Every Troomi plan includes unlimited talk and text within the U.S. and to Canada and Mexico. And if you happen to travel to Mexico, you'll also have unlimited talk and text back to the USA.
On top of that, when you are in the U.S. or Mexico, you have unlimited texting to 190 countries.
Discover Troomi and help your kids discover their limitless potential!
Yes, I'd like to receive Troomi's weekly email, full of research, insights, tips and tricks for keeping kids safe online and to help them become healthy, well-adjusted users of technology as they mature.