Troomi is the safe phone that grows with your kids.
NO pornography
NO social media apps
NO addictive games
NO unwanted calls or texts
PLUS KidSmart™ safe browser
PLUS KidSmart™ safe apps
Troomi is the safe phone that grows with your kids.
Protect your children from online dangers today and teach them responsibility for tomorrow!
Troomi is the safe phone that grows with your kids.
USE CODE SCHOOL50 TO SAVE $50 AT CHECKOUT!
Quality devices from Samsung that kids love and parents trust.
Choose from the Samsung Galaxy A12 with a 16MP camera or the Samsung Galaxy A32 5G with an incredible 48MP camera—both featuring KidSmart OS™ to protect and empower your kids.
The safe phone that grows with your kids is getting noticed!
What makes Troomi different?
Because of our exclusive KidSmart OS™, "different" really isn't the right word—think "revolutionary."
Protection from pornography, predators, and bullies
No social media or addictive games to cause stress, anxiety and depression
Monthly phone plans starting at just $14.95 for unlimited talk and text
High-quality devices at kid-friendly prices
An operating system that seamlessly allows parents to add device functionality based on kids' needs and maturity
Access to safe KidSmart™ apps that enhance children's learning and creativity
Schedule phone time and app access for younger kids based on time of day
Troomi keeps kids safe while preparing them for future responsibility!
Introducing KidSmart OS™ from Troomi
Imagine a phone that grows with the needs and maturity of your children!
With KidSmart OS™, seamlessly graduate your kids from one level of responsibility to the next based on their needs, preparation and maturity. Start with a device that's completely locked down with talk and SMS texting only, then easily add device functionality from the Troomi Parent Portal—without having to replace hardware.
Enable new features when your child is ready...
So, what are KidSmart Apps?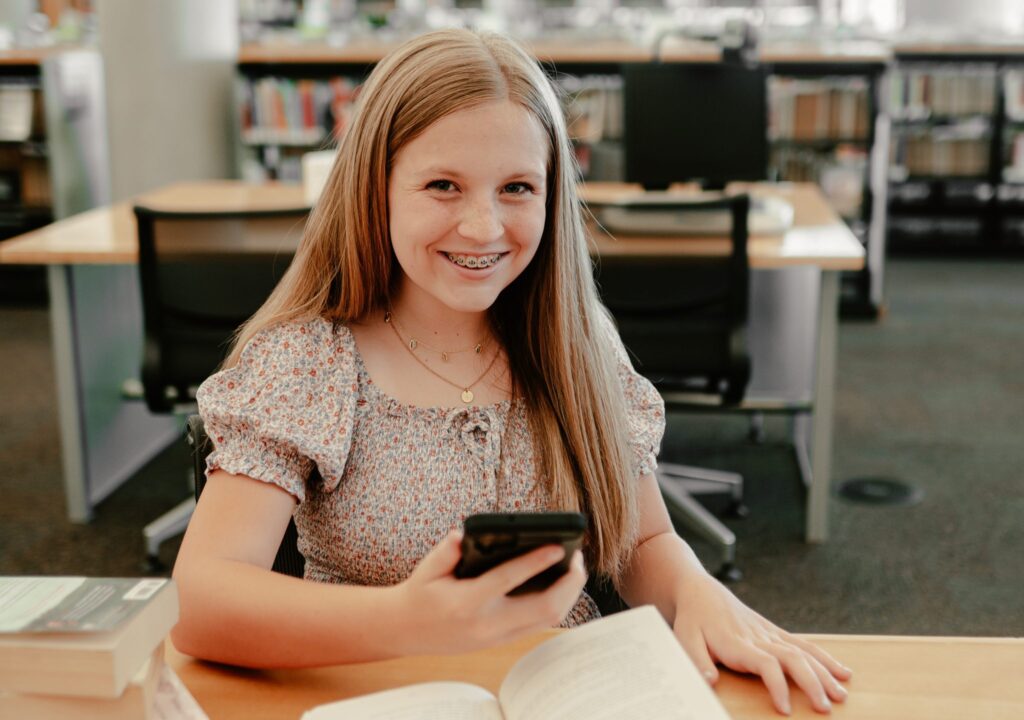 KidSmart Apps™ are award-winning apps that have been recommended by the Troomi community and vetted for safety by our experts.
We've avoided apps that are addictive or cause unhealthy distraction from things that matter most—and you definitely won't find apps with loopholes for predators and pornography. 
With no app store on the child's device, KidSmart Apps are selected in the Troomi Parent Portal. Each will help your kids excel in school, enjoy their hobbies or grow their talents!
Do you have an app you'd like to recommend? Let us know!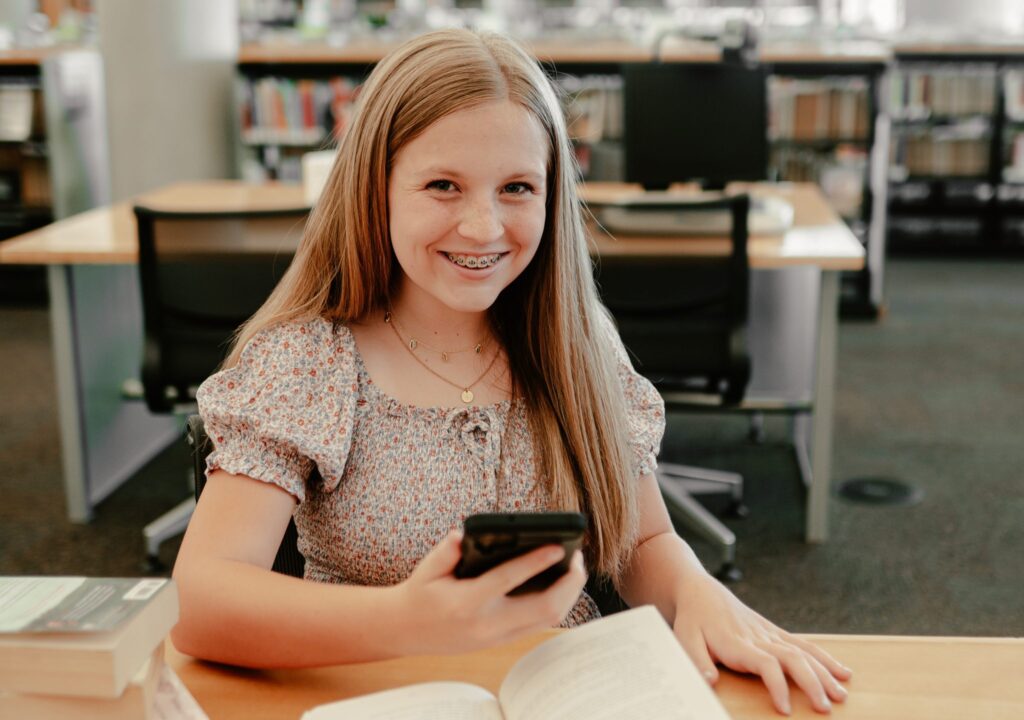 A quality device from Samsung means more peace of mind—way more.
We're proud to launch Troomi with devices from Samsung that kids will love and parents can trust:
Well-known brand that kids are excited to use
Longer device life so it can grow with your child
Fewer hardware problems mean fewer worries
Quad Camera for incredible photos, including a 16MP main camera and 8MP front camera for stunning selfies
6.5″ display and slim, adult-looking design
2-day battery life for increased safety
Octa-core processor with 128GB of storage
Defense-grade security to safeguard privacy
Bluetooth for connecting speakers and headphones
No foreign government security concerns
Because we believe in the limitless potential of every child to learn, do and become anything.
Parents (and their kids) are raving about Troomi!
"I haven't felt safe giving a phone to my 12-year-old until now. He is so excited to try out his new phone, and I am excited to have a phone and plan that I trust."
"As a teacher, I've seen the devastating effect of screen addiction on young kids. Troomi provides a safe option with enough flexibility to help kids in school without their devices being an addiction or distraction. Every parent needs this!"
"After a year of watching the frustration and ineffectiveness of inflexible kid phones from another provider, we are thrilled about Troomi and the opportunity to provide our boys with devices they will actually be excited to use."
"I really love that Troomi isn't just concerned about safety—which is a given—but that Troomi is really designed to help kids prepare for the future and live successful, balanced lives. It's the peace of mind I've been looking for!"
"I am so excited to be able to provide a phone for my kids that will help them grow in responsibility over time. We can't wait to get them!"
"I love the camera! And I love that I have apps like Canvas and Spotify, and safe access to things I need online. This is so much better than the kid phone I had been using that didn't do anything I needed."
"I have wanted a safe cell phone option for my kids and THIS is it! The peace of mind I now have as a parent is priceless!"
"Very easy to order and configure! I love the spam protections."
"Been waiting for a phone like this for my almost 12-year-old! And I loved being able to set up everything before the phone even arrived! Super easy to use."
"We are so excited to finally have a Troomi phone. Set up was so easy, it was almost too good to be true. I love the simplicity, and especially being able to allow more freedom (or less) with the touch of a button, depending on the child or situation."
"The GPS is great! I can see my kids walking to school and make sure they stay on their normal route. It gives me peace of mind when they leave the house because I can see where they are."
"We are excited about Troomi because it allows our 14-year-old more options without full range of things offered on a smart phone."
"I really enjoy the Parent Portal. It is easy to use and understand. I am so excited, and so is my son!"
"I love the Troomi phone! It has been everything I have wanted for my kids and more. Definitely worth the wait! As parents, we have so many things to keep track of, and the Troomi phone takes one more thing off my list!"
"Very slick and easy to update and use. Thanks for making it supper quick and easy for us parents."
"We're excited about Troomi! I'm looking forward to being able to connect with my 10-year-old when I'm out of town—and know that her safety and emotional wellness isn't compromised!"
"Please know Troomi is making a positive impact in our family."
What kind of network does Troomi use?
Troomi is built on one of America's leading 4G/5G networks. For just $14.95 a month, we provide all users with:
Unlimited talk and text in the USA
Unlimited talk and text to Canada
Unlimited talk and text to Mexico
Texting to 190 countries to keep in touch with loved ones
Plus 1 GB of data to run essential apps!
Is Troomi available in your area?
Enter your zip code below to find out if Troomi is available in your area!
Discover Troomi and help your kids discover their limitless potential.
Yes, I'd like to receive Troomi's weekly email, full of research, insights, tips and tricks for keeping kids safe online and to help them become healthy, well-adjusted users of technology as they mature.