I've never been a big reader. So, it shouldn't come as a total shock that I hadn't heard much about self-help books until my mid-twenties. Now that I'm nearing thirty, it's one of my go-to genres!
Every time I finish a new one, I often think: I wish I would have read this ten years ago. I don't beat myself up too badly about it—after all, life is all about learning! But I can't help but wonder how much easier parts of my life could have been if I'd picked up the right book at the right time.
If your teen is dealing with difficult feelings, hesitating to break bad habits, or simply wants a little more from life, introduce them to these self-help books for teens!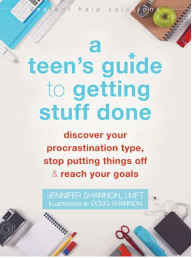 A Teen's Guide to Getting Stuff Done
Jennifer Shannon, LMFT
Does your teen tend to put things off until their time has just about run out? In this expertly written guide, your teen can get to the bottom of their procrastination problem. This won't be another adult voice accusing your child of lacking focus or drive—in this book, your teen will discover why they procrastinate and whether or not it's working for them!
Click here to help your teen tackle their goals with gusto.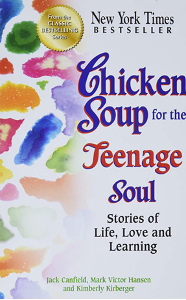 Chicken Soup for the Teenage Soul
Jack Canfield, Mark Victor Hansen, and Kimberly Kirberger
Sometimes, all your teen needs is to know that they're not alone. When they're living through some tough stuff, this collection of teen-told tales will become their best friend.
Click here to help soothe your teen's soul.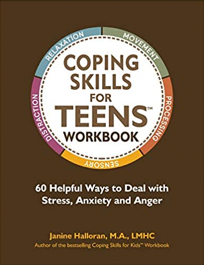 Coping Skills for Teens Workbook
Janine Halloran, MA, LMHC
Even as a teen, big feelings can be hard to handle. This strategy-centered workbook teaches teens how to deal with their stress, anxiety, and anger in appropriate ways. Your teen can flip through these uplifting pages to find constructive coping techniques, wellness worksheets, journal pages, and more!
Click here to help your teen work on their coping skills.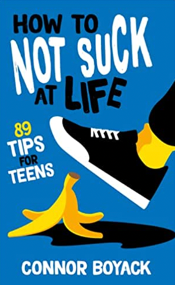 How to Not Suck at Life
Connor Boyack
Truly written for teens, these eighty-nine tips are short and sweet! In a time where teens turn to the Internet and unsavory sources for answers and advice, this brutally honest book sets the record straight. Friendship, forgiveness, finances—this wealth of wise words offers a take on every topic!
Click here to embolden your teen to be their best.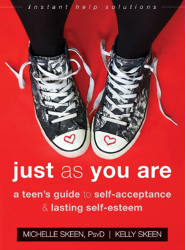 Just as You Are
Michelle Skeen, PsyD and Kelly Skeen
Comparison is the thief of joy. In this refreshing read, your teen will learn how to silence their inner critic, squash inadequacy, and stop comparing themselves to others. Instead of hanging on to negativity, your teen will come to appreciate their strengths, discover their values, and practice kindness toward themselves.
Click here to teach your teen self-compassion!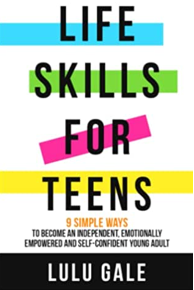 Life Skills for Teens
Lulu Gale
You've likely said it yourself: "If only I'd been taught practical skills in school." Problem solved with this handy guidebook for teens! Filled with tips on money management, meal preparation, and choosing a career, your teen won't be left in the dark after graduation day.
Click here to add a copy to your teen's library!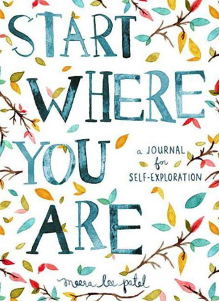 Start Where You Are
Meera Lee Patel
Sprinkled with vibrant, colorful artwork and motivational quotes, this creative and interactive journal can calm the chaos in your teen's routine. Opportunities to reflect, appreciate the little things, and discover dreams abound!
Click here to encourage your teen to explore who they are.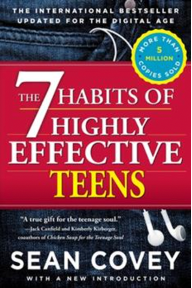 The 7 Habits of Highly Effective Teens
Sean Covey
Your teen has their goals, dreams, and plans. What they might not have is the map to help them get there. With millions of copies sold, this book is the ultimate guide to teen success! From making friends and resisting peer pressure to navigating the unique challenges of our time, your teen can turn to this handbook for helpful tips and tools every step of the way.
Click here to add this classic adaption for teens to your cart!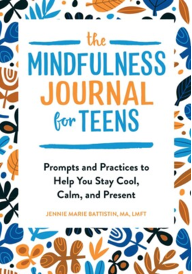 The Mindfulness Journal for Teens
Jennie Marie Battistin, MA, LMFT
Packed with prompts and practices built to benefit teens, this mindfulness journal can make the stresses and pressures of school, extracurricular activities, and maintaining a social life a little lighter. From this workbook, your teen can fill their behavioral health toolbox with breathing exercises, quick and easy meditations, inspirational quotes, and helpful writing prompts.
Click here to add a copy to your teen's shelf!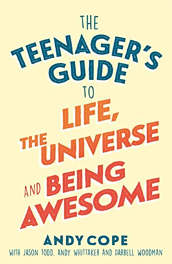 The Teenager's Guide to Life, the Universe, and Being Awesome
Andy Cope
This surely isn't news to you, but your teen is already awesome exactly the way they are! But when the going gets tough, that fact is easy for your teen to forget. Slip this uplifting read onto your teen's shelf to remind them of their greatness—and inspire them to go after the bigger and better.
Click here to grab this guide for your teen!
Troomi Has Good Books for Teens
No library nearby? No problem. Your teen can check out this life-changing literature from the comfort—and convenience—of their own phone!
Through apps like Audible, Kindle, and Libby, your teen can unlock unlimited access to millions of audiobooks and e-books. Just what they need to help them navigate tough times in a safe and secure way!
Click here to see what other apps are available on Troomi phones.