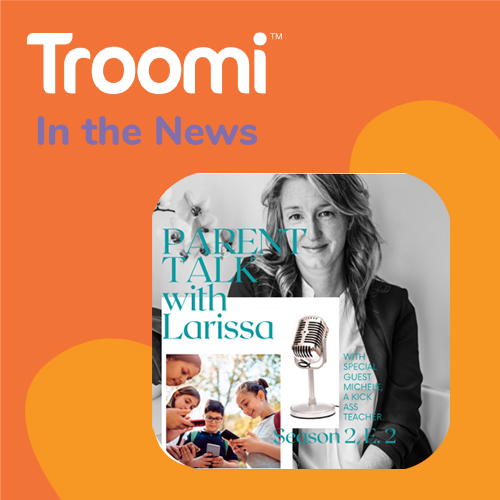 There are plenty of options out there for a phone for your kids, running the gamut from a phone locked down to just talk and text to an unrestricted smartphone. So how do you know which one is the right choice for your family? Troomi CEO Bill Brady was recently a guest on the podcast "Parent Talk" with Larissa, where he answered this and many other questions.
Bill talked about the growing evidence that we're "giving too much technology to kids too soon" and how all this tech use is causing problems for our children. Because tech is such a huge part of society today, Bill wanted to design a phone option for kids that creates some much needed middle ground.
"If you look at the landscape, on one end you've got what I call the Wild West. Get your kids a $1,200 iPhone, and it can do anything and everything," he said. "And on the other end of the spectrum, there's some solutions—great solutions—that have come out that say 'Hey, let's give kids a limited experience.' The challenge that we saw with some of these existing solutions is, yes, good that you can start a kid with something that's locked down to talk and text, but that's not practical for a growing child."
Troomi, on the other hand, creates a safe, limited experience that can grow and expand as your child matures. When a child is ready, parents can add group and photo text, a safe web browser, and eventually safe apps. All in all, Troomi is meant to help kids learn, grow, and discover, and to use technology as a tool, not a tyrant.
"Our whole mission revolves around helping kids reach their full potential and helping kids to have confident, energetic, productive lives," Bill said.
Bill also shares the meaning behind the name "Troomi," how we built off the Android operating system to make a safe experience for kids, and how we designed the Parent Portal to be so user friendly. Listen to the full episode here.